We would like to welcome you to the 2019 National Nursing Conference! This conference is designed for Mom/Baby, Neo-Natal, NICU, Labor and Delivery Nurses. This is a unique chance to get your Accredited CEUs and vacation at the same time! While the ship is at sea, we will be having conference activities. Outside of those activities, you are welcome to explore the ship and all it has to offer: Shows, Drinks, Meals, Unique restaurants, and lots of fun for the kids (if you choose to bring them)! When in Port you are free to explore the destinations, embark on shore excursions and relax.  This conference is designed to earn the CEUs while relaxing with co-workers, family, friends, and others in the Nursing Profession. I encourage you to spread the word! This is one conference you do not want to miss. We will be having more of these for many industries and medical specialties!
Space is limited! Place your reservation today to confirm your CEUs for 2019 and a fantastic vacation to start the new year!
Download Flyer Here.
Take the sizzle from Miami when you depart for paradise aboard the Norwegian Getaway. Recline in a hammock on our newest resort-style destination, Harvest Caye, or go rainforest river tubing for an experience the whole family will enjoy. Lean in and hear the ruins of Costa Maya as they whisper tales of swashbuckling. Explore Cozumel's unique ecological reserve Punta Sur Eco Park to see a pristine tropical jungle and spot diverse wildlife. Find out why The Caribbean is paradise on earth when you set sail with Norwegian.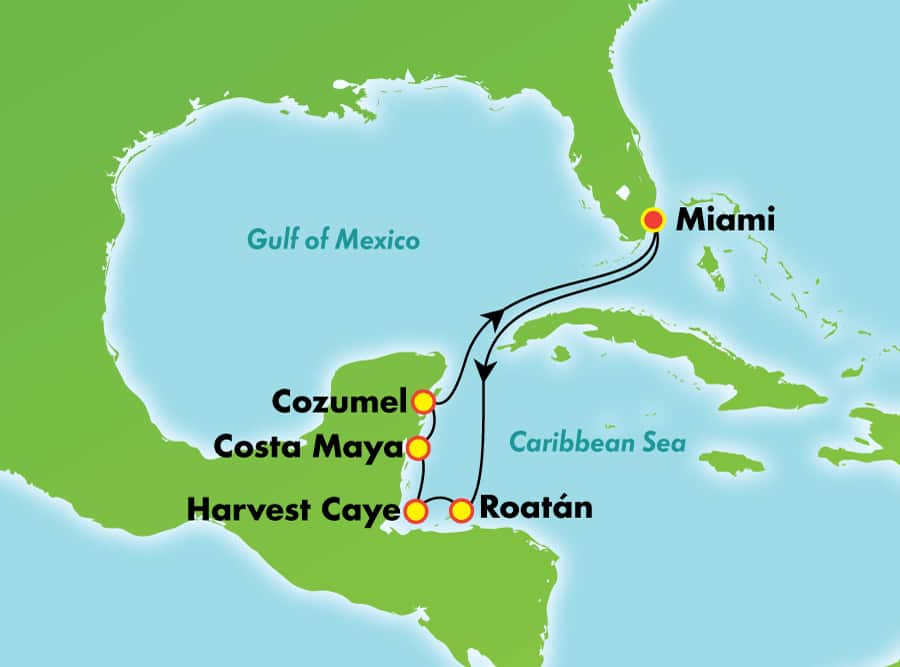 7-Day Western Caribbean from Miami
| Day | Cruise Ports | Arrive | Depart |
| --- | --- | --- | --- |
| Sun | Miami, Florida (EMBARK) | — | 4:00 pm |
| Mon | At Sea | — | — |
| Tue | Roatan, Bay Islands, Honduras | 10:00 am | 6:00 pm |
| Wed | Harvest Caye, Belize | 8:00 am | 5:00 pm |
| Thu | Costa Maya, Mexico | 8:00 am | 5:00 pm |
| Fri | Cozumel, Mexico | 8:00 am | 5:00 pm |
| Sat | At Sea | — | — |
| Sun | Miami, Florida (DISEMBARK) | 8:00 am | — |
Please Note:
Disembarkation usually begins 2 hours after docking.
Due to security reasons, all guests must be on board 2 hours before sailing.
Itineraries are subject to change at any time without notice.
Check your specific sailing for exact departure and arrival times. All times are local to the port.
Use Paypal to reserve your spot in the conference. Please contact us if you are paying for more than 2 people.
One person
Two People
Then fill out the form below. You will be contacted for the form of payment for payment information.